Castle Shakespeare: Why study the Bard?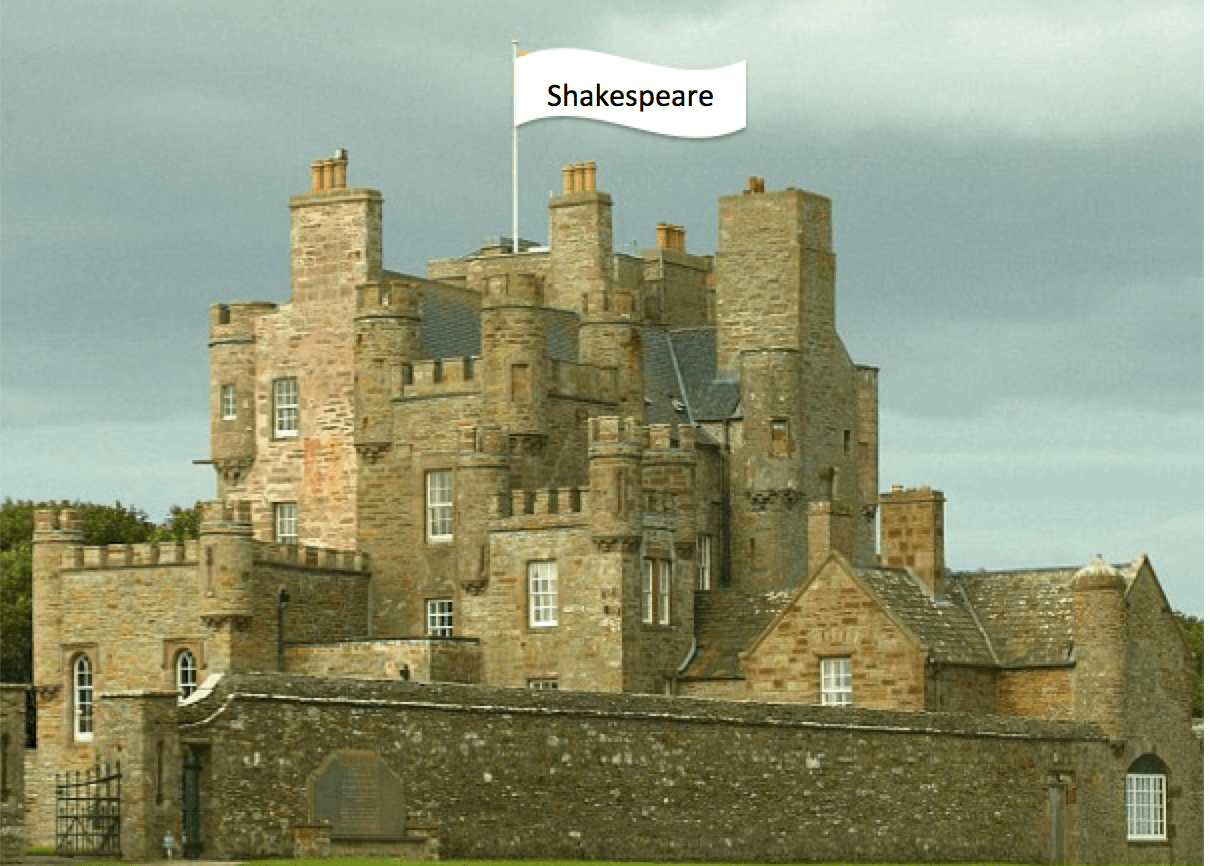 Let me give you, let me share with you, the City of Invention. For what novelists do… is to build the Houses of the Imagination, and where houses cluster together there is a city… Let us look round the city: become acquainted with it, make it our eternal, our immortal home. Looming over everything, of course, the heart of the City, is the great Castle Shakespeare. You see it whichever way you look. It rears its head into the clouds, reaching into the celestial sky, dominating everything around. It's a rather uneven building, frankly. Some complain it's shoddy, and carelessly constructed in parts, others grumble that Shakespeare never built it anyway, and a few say the whole thing ought to be pulled down to make way for the newer and more relevant … but the Castle keeps standing through the centuries and, build as others may they can never quite achieve the same grandeur; and the visitors keep flocking, and the guides keep training and re-training, finding new ways of explaining the old building.

Fay Weldon, Letters To Alice
It's hard to escape the spectre of Shakespeare in British life. Newspaper headlines and advertising copy liberally mine the bricks of Castle Shakespeare; a hologram of the great man's head is a mark of the authenticity of your credit card; there's a national, heavily subsidised theatre company dedicated to putting on his plays, and a whole country – Warwickshire – has been rebranded as 'Shakespeare's County'. What's more, he's the only compulsory author specifically named in the English National Curriculum, with students expected to study at least two of his plays. Shakespeare's reputation, both home and abroad, is towering. A BBC Radio 4 poll named him British Person of the Millennium; his plays have been translated into scores of languages and can be seen in theatres around the world.
Students, however, when confronted by a dog-eared copy of Macbeth or Romeo and Juliet, are often underwhelmed. As far as they're concerned Shakespeare is alien, old-fashioned, boring and unintelligible. The funny bits aren't funny and everyone ponces around talking endlessly to themselves in rhyme. Why do we bother? Why not let them read something contemporary, accessible and relevant?
Ben Jonson's famous observation that Shakespeare is "not of an age, but for all time" has led to the traditional assertion that Shakespeare is the greatest writer in the English language and his plays are the finest examples of English literature. This argument rests on the artistic merit of the plays, the values they teach us and their universal appeal. Shakespeare is an incomparable genius and to study his plays is not just to bask in the glory of his poetry but also to connect with and learn from the highest human spirit; because we are all moved and affected by his characters, ideas and language, his plays express the hopes, thoughts, fears and ambitions of everyone who has ever lived.
If we take a cultural materialist perspective, we might point out that Shakespeare wasn't considered all that great in his own lifetime and in 1660 with the restoration of the monarchy and the reopening of London's theatres, manuscripts of Shakespeare's plays began to circulated and the plays performed again, but even then various of his contemporaries (including such now practically unheard of playwrights as Francis Beaumont and John Fletcher) were more popular and more regularly performed. It was only from the end of the sixteenth and into the seventeenth century that his reputation began to grow. There are many other writers who could potentially be considered as important and influential but for accidents of history. Sophocles wrote 120 plays in ancient Athens and, arguably, invented the whole idea of action by having as many as three characters on stage at once. Sadly though, only seven of his plays survive. The Spanish playwright Lope de Vega was writing at the same time as Shakespeare and was equally as successful, writing even more plays than the Bard, but the decline of Spain as a European power meant that Vega wasn't translated and today fewer than 10% of his plays are available in English. Shakespeare though had the British Empire and was shipped to the colonies as a civilising influence.
As to whether Shakespeare teaches 'universal values', it's hard to really know. We are so familiar with some few of his plays that their original messages have been lost beneath archeological strata of countless new interpretations. When we watch a play or see a film we're experiencing the artistic vision of the director who chooses what and how to bring to the stage. Shakespeare might be the ultimate victim of cultural appropriation with everyone feeling able to reinvent him to express whatever it is they see as pressing or important. At the same time, whole swathes of society see Shakespeare as 'posh' and representing the values of the elite. With all this baggage, can we really say Shakespeare is the greatest ever writer? Can we even say he's the best in English?
Maybe not, but that's not why we should study Shakespeare. As Weldon acknowledges, Castle Shakespeare is "shoddy, and carelessly constructed in parts". But despite that, "the Castle keeps standing through the centuries … and the visitors keep flocking, and the guides keep training and re-training, finding new ways of explaining the old building." Students need to study Shakespeare because of the way he has been appropriated, reinvented and branded. Understanding modern life, never mind understanding literature, is made immeasurably easier by understanding Shakespeare's place at the heart of the canon. It doesn't matter whether we like his plays or if we can identify with his characters, the fact is 'we' have collectively decided that Shakespeare is a big deal. The consequences of this decision are enormous and not knowing at least a smattering of some of the plays is to mark oneself out as a pariah and a philistine. Familiarity with Shakespeare is a mark of culture and education; depriving children of this cultural capital is to deny them the opportunity to decide for themselves.
Some of the most interesting questions to ask of Shakespeare are about power – who has it, what it rests on whether it's challenged or overthrown? Shakespeare's plays lend themselves to analysing the role of woman – how they're presented and how gender operates. None of this can be done from a position of ignorance. There's nothing liberating about not studying Shakespeare. The ability to criticise, analyse, reinterpret and deconstruct rests on what you know. If we allow students not to know anything about Shakespeare, we are marking them out as less than those who do.